LAPLAND HOLIDAY - MARCH 06
As Paul's pressie to Juliet for her 30th birthday, he arranged a week in the ski resort of Levi in Lapland. North of the Arctic Circle, it was -35 degrees when we arrived! Everywhere was covered in a thick blanket of snow. We stayed in a cute log cabin with a wood burning stove, and our own private sauna (great for Juliet to recover from the aches and pains after a snowboarding lesson)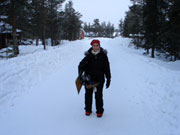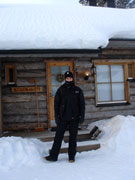 SNOWBOARDING
To keep us busy for a week, we decided to book a 5 day snowboarding course. Sadly, all we had learnt in Canada had gone out the window, but we were with a great bunch of people, so lots of fun and falling over was to be had.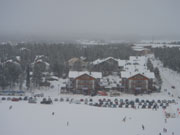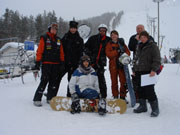 Above is the view from 'the big slope' ;-) where we spent much time falling over and the 'gang' on snowboard graduation day - which Juliet had to miss due to falling rather badly off the lift onto her tail bone the day before, so she spent it in the sauna instead.

'Rad' snowboarders Juliet and Isobel at the top of the world cup run (before heading over to the nice blue run where Paul is taking a breather). Take note of the look of concentration on Juliets face as she 'snowboards'!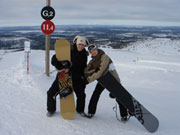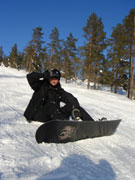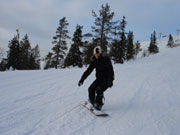 [Click here] (580Kb) to view a video of Juliet Snowboarding
[Click here] (670Kb) to view a video of Paul Snowboarding

SKIING WORLD CUP AT LEVI To our surprise the Sking world cup was on while we were there! The 'real' Santa and a couple of his reindeers were also around.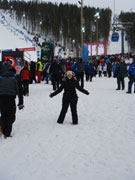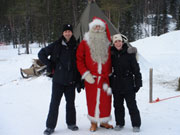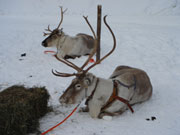 HUSKY RACING
Accross the wilds of Lapland over a frozen lake, just the two of us and five huskeys meant we went at quite a speed! Afterwards warming up by the fire toasting sausages and drinking hot berry juice.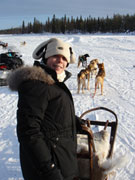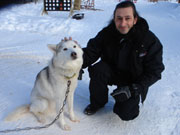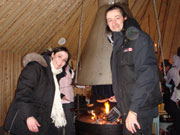 [Click here] (500Kb) to view an all action video of our huskey ride!

APRES SKI
Juliet with reindeer steak (reindeer was always on the menu!). Paul at the reindeer reincarnation ceremony (which involved painting black antlers on our foreheads) at lappish night where Juliet was informed that she is going to come back as one of Santa's reindeer! Finally, us with fellow snowboard learner Amber, as her and her friend Isobel (a slightly more experienced snowboarder) showed us how to party!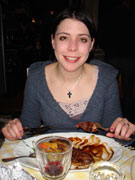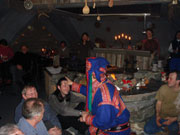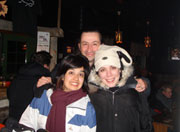 Home